Hip
Procedures
Non-Surgical Treatments
Hip Injections
Hip joint injections involve injecting medicine directly into the hip joint to diagnose the source of pain or treat pain due to conditions such as arthritis, injury or mechanical stress of the hip joint. Hip pain may be experienced in the hip, buttock, leg or low back. The injection contains a combination of a numbing medicine and cortisone (an anti-inflammatory agent).
Physiotherapy
Physiotherapy or physical therapy is an exercise program that helps you to improve movement, relieve pain, encourage blood flow for faster healing, and restore your physical function and fitness level. The main aim of physical therapy is to make your daily activities, such as walking, getting in and out of bed, or climbing stairs, easier.
Platelet Rich Plasma Therapy
Our blood consists of a liquid component known as plasma. It also consists of three main solid components which include the red blood cells (RBCs), white blood cells (WBCs), and platelets. Platelets play an important role in forming blood clots.
Surgical Treatment
Hip Arthroscopy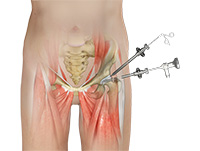 Arthroscopy, also referred to as keyhole or minimally invasive surgery, is a procedure in which an arthroscope is inserted into a joint to check for any damage and repair it simultaneously.
An arthroscope is a small, fiber-optic instrument consisting of a lens, light source, and video camera. The camera projects an image of the inside of the joint onto a large screen monitor allowing the surgeon to look for any damage, assess the type of injury, and repair the problem.
Hip Fracture Repair
Surgical correction of a hip fracture is known as hip fracture surgery.
Hip fractures involve a break that occurs near the hip in the upper part of the femur or thigh bone. The thigh bone has two bony processes on the upper part - the greater and lesser trochanters. The lesser trochanter projects from the base of the femoral neck on the back of the thigh bone. Hip fractures can occur either due to a break in the femoral neck, in the area between the greater and lesser trochanter or below the lesser trochanter.
Hip Replacements
Others
Health & Safety